YESHM participated in the three phases of the Canton Fair in April. This offline trade fair, held for the first time in three years after the pandemic, carries significant importance. As an exhibitor, YESHM thoroughly prepared for this event. From April 15th to May 5th, our team worked tirelessly day and night, with the sole aim of reuniting with international friends and exploring more development opportunities in the post-pandemic era.
永衡良品在4月份参加了广交会的一、二、三期,这是疫情过后三年来首次举办的线下广交会,意义重大。作为参展方,永衡良品做足了功课,充分准备。从4月15日至5月5日,我们团队全力以赴,日以继夜地工作,只为能与国际友人再次聚首,共同探寻后疫情时代的更多发展机会。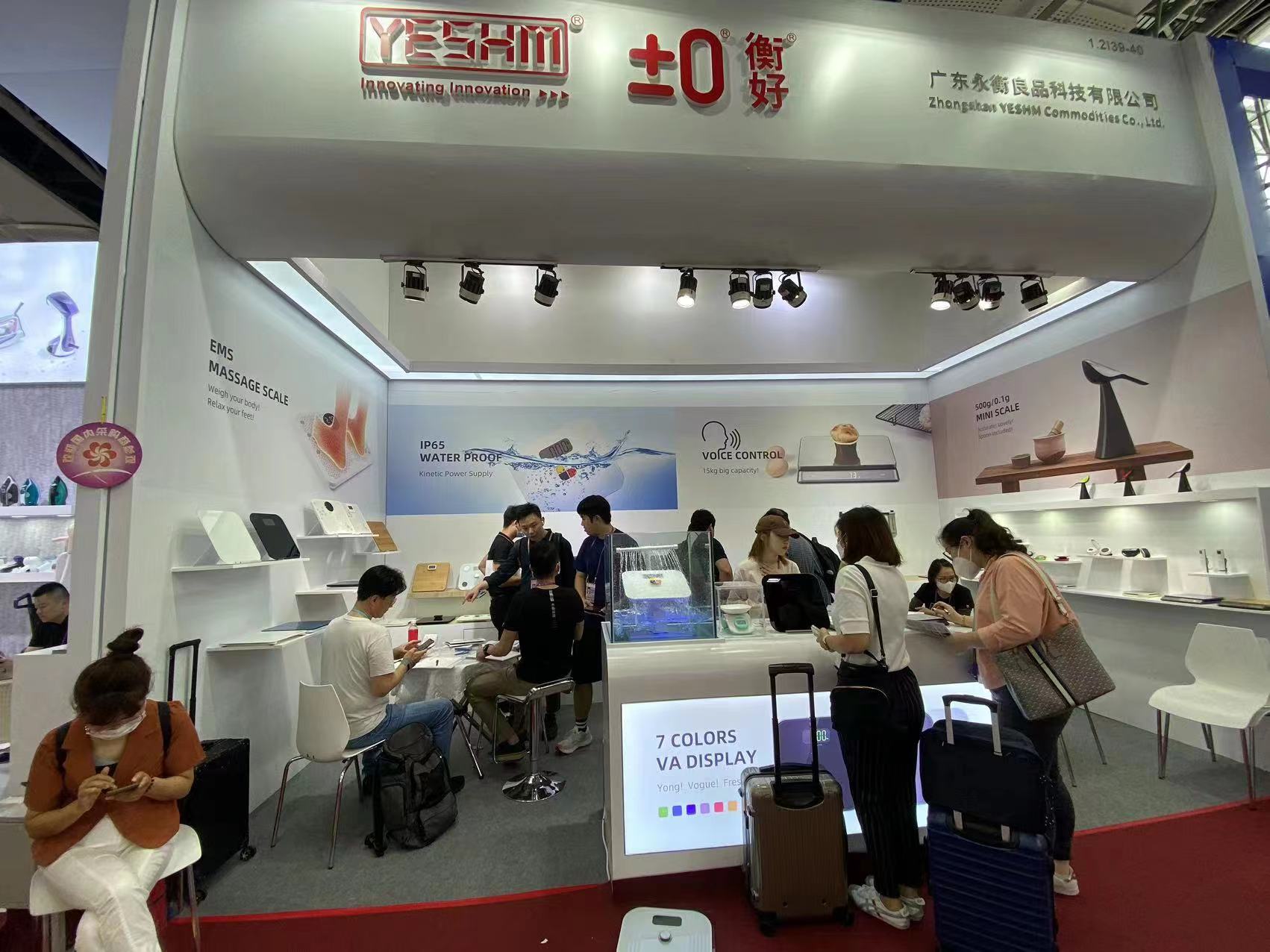 At this edition of the Canton Fair, YESHM company showcased a variety of innovative electronic scale products that captured the attention of numerous visitors. Among them were
在本届广交会上,永衡良品展示了多款创新十足的电子秤产品,吸引了众多观展者的目光。

the aesthetically pleasing and feature-packed Little Bird Tea Scale.
其中包括了颜值与功能兼备的小鸟茶叶秤,它不仅外观精美,而且功能出众;

The technologically advanced and craftsmanship-infused Voice-Activated Kitchen Scale.
科技与匠心融合的语音厨房秤,通过语音交互让烹饪变得更加便捷;

The young and fashionable rainbow display bathroom scale.
年轻时尚的七彩显示浴室秤。

And the massage body weight scale that combines craftsmanship and creativity, offering both relaxation and health benefits.
以及工艺与创意兼具的按摩体重秤, 休闲健康两不误。
YESHM company has made thorough preparations to provide international friends with high-quality products and professional services. We will continue to strive for innovation and offer users more and better products. We are filled with anticipation for the future and believe that YESHM company will embrace a brighter future in the field of electronic scales!
永衡良品为向国际友人提供更优质的产品和专业的服务做好了充分准备。我们将不断努力创新,为用户提供更多更好的产品。我们对未来充满期待,也必将在电子秤领域迎来更加美好的发展!